Senegal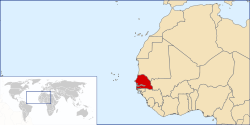 lies in western Africa. Senegal's population has grown from 9.9 million at the 2002 census to an estimated 13.6 million in 2014. More than 42% of the population lives in rural areas, with a population density that varies from 77 people per square kilometer to 2 people per square kilometer in the arid eastern region of the country. The average population density for the country is 68 people per square kilometer (169/sq mi), which ranks 134th in the world.
ABC Children's Aid Senegal
ABC Children's Aid was established in Senegal in 2008 and currently supports 60 street children in this rented building in Senegal (see picture below).
ABC Children's Aid in Senegal started a pre-school in Dakar in September 2008. ABC is also running a fotball school and an open house for street boys where they can take a shower, get something to eat and receive some education.
Long term goals in Senegal include:
Opening pre-schools, primary and secondary schools and also a university.
Providing a place for street children to receive food, take a shower, and play. This will be a place where they can just be kids.
Developing professional/vocational schools, training the children in, for example, sewing, silk screen, arts and crafts, gardening, and also sports (soccer, volleyball and basketball).