January 24th, 2015 Posted in
English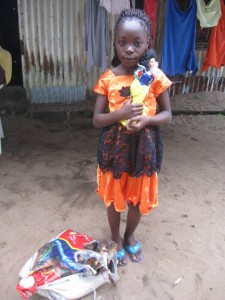 Here is a little Christmas story about Angel, who lives in Monrovia Liberia.
Angel got a doll, a dress, half bag of rice and some smoked fishes from a little girl in Klaksvík in Faroe Islands, because this little girl got an amazing idea, to do a rally outside the local shop and give the money to ABC Children aid.

Gunvá (The Faroes girl name) is only seven year old. She bought a rally ticket at ABC and won a plant and Gunvá took good care of this plant. One week later she came back to buy rally tickets, but this time she did not win anything. But even so, she asked her mom to bake cookies and Gunvá made her own rally and earned 198 kroner (USD $ 32) and gave them all to ABC Children's Aid.

Angel lived together with her grandfather, until he died few weeks ago due to Ebola. Angel's mother can not afford to send Angel to school. So now Gunvá want to help Angel so she can go to school. In this way can a little girl in the Faroe Islands, change the life of a littler girl in Africa.
Written by Hilda Viderø
(Click on picture for a larger view)