Matthew T. Sakeuh
Information for whom it may concern.
To prevent that other organizations and individuals may end up in the same difficult situation as we have struggled with since early 2010, we feel that it is our duty to inform the public about the serious problems we have experienced cooperating with Matthew T.  Sakeuh.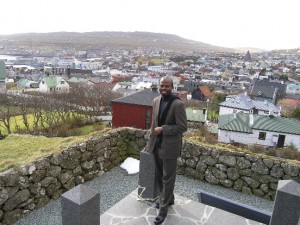 Pict: Matthew T. Sakeuh on his first trip to The Faroe Islands in March 2007.
Matthew Sakeuh is born and raised in Liberia and is now living with his wife and their five children in USA, Anderson, Indiana.
ABC Childrens Aid in the Faroe Islands was founded in Desember 2006. We decided that our first project would be to help orphans in Liberia. Together with ABC International we chose Matthew to be in charge of the project. He visited The Faroe Islands in March 2007 and again in November 2008.
On a visit in Liberia in January 2010 we got a feeling that everything was not as it should be. Therefore we chose to send a representative of ABC Children's Aid to get a closer look at the circumstances. Sadly our suspicions were confirmed and a very serious distrust in Matthew lead us to terminate our co-operation with him.
For further information pleace contact ABC Children's Aid International. abc@abc.is
_______________________________________________
Pict: The school funded by the Faroese Government.
___________________________________________________